Vol. 2, Number 2. June 26, 2020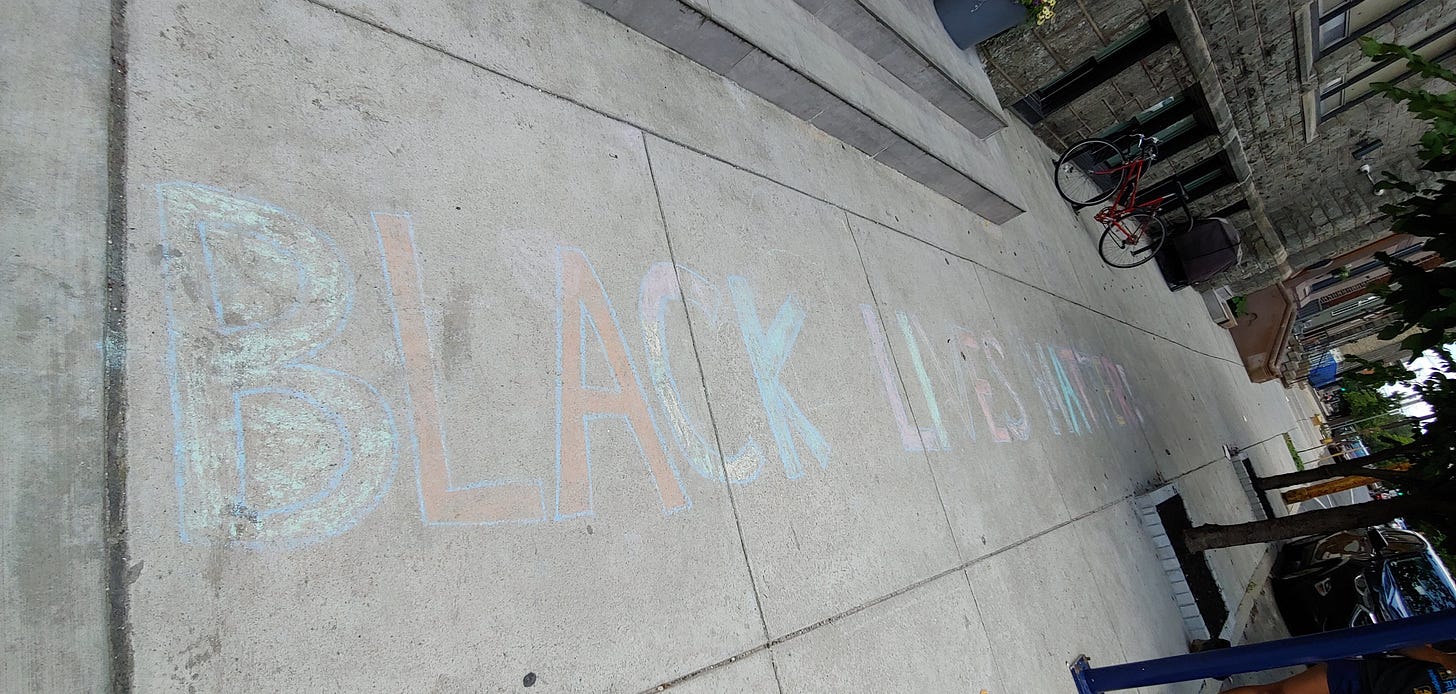 Black Lives Matter in chalk in front of First African Baptist Church in Philadelphia's Graduate Hospital neighborhood on June 20, 2020.
Hello, everybody!
If there's one thing I've been struggling with during these last few months, it's been reading for pleasure. Last week, I found some time to finish reading Olivia Laing's "The Lonely City: Adventures in the Art of Being Alone". I've been thinking about it and the observations influenced by and gleaned from it since.
---
I'm finding myself referring to this period we're in as "The Great Reset" when talking with folks. The book's helped me with starting to explain why it is and what needs to happen next.
Many journalists have long adopted a mindset of needing to be the ultimate outsider. It's as a way to ensure people view what's produced as fair and objective. Klaus Nomi, a German countertenor, was one of the people whose lives Laing examined for the book. He explains why it's not the same reason he embraces this approach.
"It's the only way I can break so many rules," he said.
Many of us in journalism are working to do more in the name of the public good. But, we may need to break the rules associated with how it. The thing is, we're making a pivot accelerated by the COVID-19 pandemic. In the process, we're proving this quote by David Wojnarowicz to be true:
"To make the private into something public is an action that has terrific repercussions on the pre-invented world."
We may serve the public good well moving forward, but we are nervous to accept the consequences of what we do now. We still act as though we know what's best for our community. We still treat them like a product instead of a customer despite the best of intentions. We still don't ask them what they want or need to function and survive. We don't know how to break old habits. It leads to an interesting dilemma.
Do we "cooperate with each other to achieve common goals," as Valerie Solanas suggests in her definition of community in her SCUM Manifesto, Or do we seek to merely keep score like we're in competition with instead of in concert with one each other?
What happens if we accept loneliness as being "collective" in nature, as Laing suggests towards the end of her book? How do we find a common language of sharing for everyone to use? How do we remember that technology is a tool and not the solution unto itself? We shouldn't just be of service to those we amplify, but of them too.
---
Last summer, I had a chance encounter with Errin Haines while picking up my morning cup of coffee. When she asked where I lived, she reminded me of my stumbling into living in a part of "DuBois's Philadelphia." It means I try to make time to take in the historic markers and murals throughout Graduate Hospital. It's not something I often see happening around me. Yesterday, I stepped foot outside of my apartment for a rare trip outside for groceries and lunch. On my way home, I noticed a story unfolding around me.
First, a young Black woman was riding her bike past me. When I got closer, I realized she'd stop on each block, snap a photo of the marker in front of her, and then continue on her way.
I walked past my building to take that photo you see up at the top of this note. (You can make out the young woman's bike in the photo). That's when a young Black couple pulled up alongside me to take a look at the building. I told them what I knew about the current state of the building (including its current uses as a daycare center/event space/hip hotel). It turned out the woman is a planning major at Penn and her boyfriend was visiting her for the weekend. They'd also been driving around taking photos and reading all the markers along the way. We talked for a while about a range of topics, including what I do for Resolve and my days in economic development.
We'd all been sharing the same space, though moving quite independently from one another. Those historic markers let me speak to the first people outside of my work world since mid-March. They played a role in having a conversation I'd craved forever. It's also a conversation that wasn't happening before this week (or, frankly, before the protests started).
It had me wondering how we find more ways to give people the space to connect. How do we build a stronger sense of community and continue to tell its stories (both past and present)? I'm hoping to explore ways to embrace the impact the built environment has on how and what we consume.
How do we best serve our communities as they rebound from an extended period of physical detachment from one another? It's essential to how journalism and the built environment move forward after this.
I'd love to know what you think about these threads of thought (or anything really).
---
What I'm reading: Amiable with Big Teeth by Claude McKay
It's one of the books I picked up at the City of Asylum Bookstore last August. The satirical account of Harlem during the 1935 Italian invasion of Ethiopia was published in 2017 after being "discovered" in 2009, years after it was written by the Harlem Renaissance author.
What's playing on the living room speaker: I tuned into WHCJ 90.3 FM in Savannah, Georgia these past two Saturday mornings so I could hear Ike Carter and Nothing But the Blues (6 a.m. - noon, ET). It's a habit I embraced for most of my time in the Hostess City and it's been helping a lot recently. I've also found myself streaming some WMVY from Martha's Vineyard and finding Jazz Night in America excerpts, because why not?
What I'm watching: Watchmen. Again. Especially since YouTube TV's making it available through Friday. The more Easter eggs I discover, the more I enjoy it.
Your moment of Pete:
As always, let me know how you're doing; it'd be nice to catch up with more than just a "like" or an emoji. Plus, you can share the newsletter if you'd like too.
Cheers!